In case you haven't experienced the World Bartender Championship live at your local Fridays you can get a feel for the good times by watching these videos. Watch highlights from last year's competition.
Watch highlights from the 2011 World Bartender Championship competitions.
The 22nd annual World Bartender Championship (WBC) took place on March 6, 2013, with 10 exciting finalists from around the globe competing in the 2012 TGI Fridays World Bartender Championship in Dallas, Texas. More than 10,000 bartenders worldwide participated in the competition with Hiroyuki "Mark" Yamada of Japan being crowned the 2012 World Bartender Champion.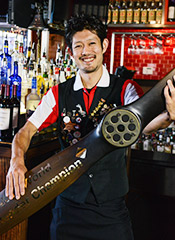 Throughout the local, regional and division bartender competitions, Fridays partnered with Feeding America during the 2012 World Bartender Championship. Feeding America feeds America's hungry through a nationwide network of member food banks who supply food to more than 37 million people each year, including 14 million children and 3 million seniors.