FEATURED DRINKS
THE BFM & BARBADOS RUM PUNCH

Take a tropical trip with The Best FridaysSM Margarita pairing the flavors of Patrón Silver Tequila and Grand Marnier with fresh organic agave and juices. Or if the flavors of Barbados are more your style, sip on a Barbados Rum Punch combining the fruits of the tropics with Mount Gay Eclipse Rum.
PEACH SANGRIA AND COSMO NOIR

Can't decide between wine or a cocktail…no need. Combine your favorites with Fridays refreshing Peach Sangria or its mysterious Cosmo Noir. You're welcome. Happy Friday.
MIXING UP YOUR FAVORITES
POUR
SHAKE
STIR
REPEAT
Do you like your Happy Fridays shaken or stirred, frozen or on the rocks?  Are you an adventurous drinker, a fan of the classics or do you always reach for a cold one?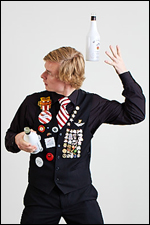 At Fridays it doesn't matter because our bartenders are masters of the mix, and can create just about anything you throw at them.  Rigorous training, and a passion for what they do make navigating your beverage of choice simple.
We know that with all of the unique flavors being sampled in cocktails, craft beers and wines these days the choices can seem endless when approaching the bar.
Don't worry about that, just tell the experts at Fridays what you like and they can shake up your favorite classic, pour a perfect pint, or use some fresh ingredients to make a unique handcrafted cocktail.