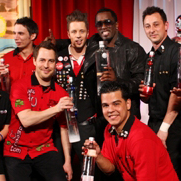 Beginning in August, local competitions are held throughout the world to determine the best bartender at each restaurant. Local winners advance to regional and then division competitions for a chance to compete in the ultimate event: T.G.I. Friday's® World Bartender Championship. The 2010 World Bartender Championship will be held in Dallas on March 14, 2011.
Meet Brian: Bartending veteran and current World Bartender Champion. Brian has been a WBC finalist every year since 2003 and a US Champion every year since 2004.
The new champion, Attila Farmasi from Budapest, Hungary, joins 2009 champ Brian Zachau, and thousands of others around the globe, in the quest to find a global home for the sport of bartending. After beating out nine other finalist hopefuls at the 20th anniversary of Friday's World Bartender Championship, Farmasi was crowned the 2010 World's Greatest Bartender and awarded a prize of $10,000. In addition, Friday's hosted its first "Favorite Bartender" online voting competition, naming Bradley Kaplan from Colorado as this year's Fan Favorite with more than 100,000 consumer votes.
Make it happen!  Read the IOC letter and make bartending a recognized sport! Sign the Petition Now!